Community Meetings
The next INCONECSS Community Meeting will be on October 24th 2022. More details will follow, as we get closer to the date.
If we should put your name on a list for alerts and details, please let us know: E-Mail.
INCONECSS takes place every three years. The last time we saw each other was in 2019. In a time without masks, without lockdown and without the need for distance.

We want to use the time between conferences to exchange ideas and to stay in touch. Because a lot is happening at the moment.

That's why we have created the INCONECSS Community Events. Every 3 months, we invite you to take a closer look at a current topic and to share your experiences with others.
Next Community Meeting
Community Meeting No. 5: "Learning online and offline – Enriching the learning experience on site and in the digital world"
2022-10-24 – 14:00-15:00 CET
Welcome & Introduction: Thorsten Meyer, Chief Librarian, ZBW
Lightning Talks:
5 Questions in 5 minutes
Stay on to meet the speakers in breakout rooms if you like
PREVIOUS MEETINGS
Community Meeting No. 4: "Trainings and Games Related to Research Data"
2021-12-13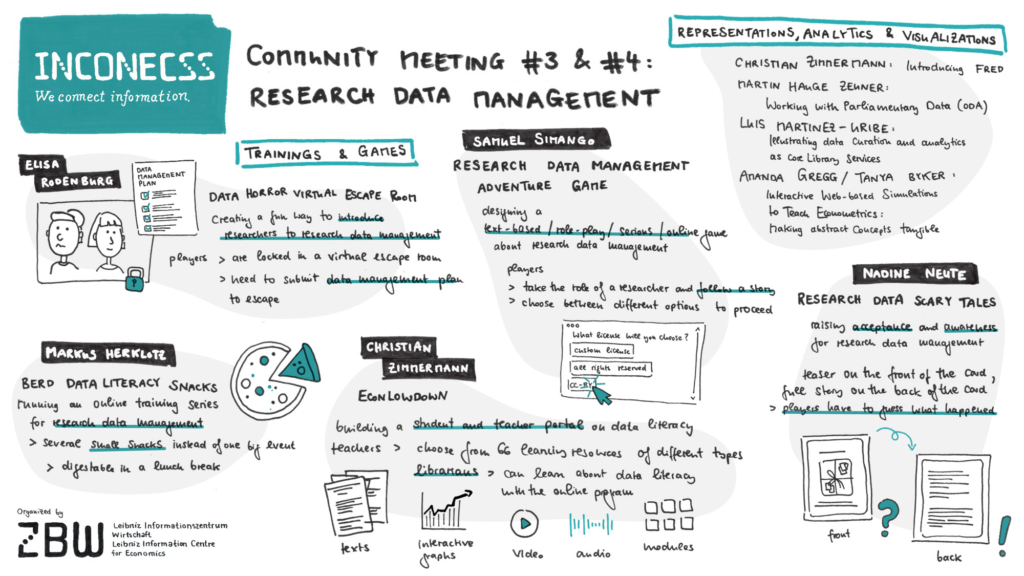 Lightning Talks Slides:
Community Meeting No. 3: "Research Data: Representations, Analytics and Visualizations"
2021-09-27
Lightning Talks Slides:
Community Meeting No. 2: "Access to business and economic information without paywall barriers"
2021-06-14
Sketchnotes: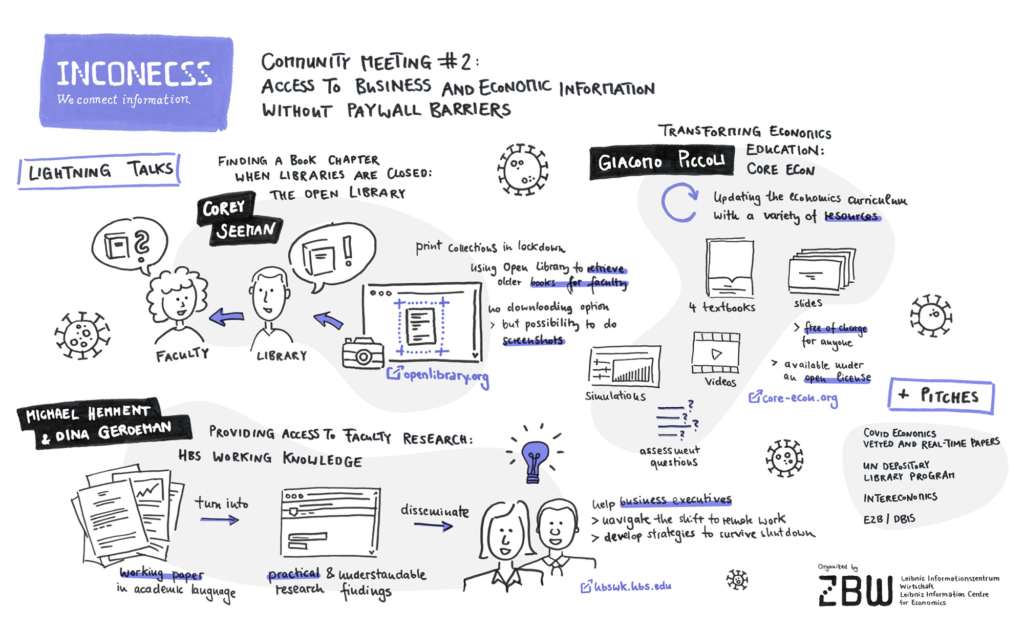 Lightning Talks Slides:
Pitches Slides:
Community Meeting No. 1: "Staying in touch with our communities during the pandemic – ties with students, faculty and staff"
2021-03-22
Lightning Talks Slides:
For more information on and by the authors please have a look at: